Susanella Noble
Flutist - Composer - Teacher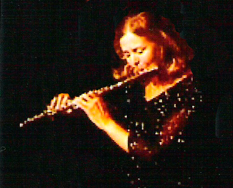 Sparkling and entertaining -- The New York Times
Outstanding, magnificent -- Arizona Republic
Noble is quite simply perfect. -- Daily Camera
A merry piper --The Daily Sentinel
Meltingly lovely -- The Denver Post
Pure Pleasure -- Herald/Review
Upcoming performances

Hawaii County Band features monthly concerts and performances around the Big Island

Kamuela Philharmonic
Sunday, March 20 at 4P
Featuring Beethoven's "Pastorale" Symphony VI and Tchaikovsky's Violin Concerto with soloist Michael Russell
Bio Notes
Susanella was born in New York City and raised in Iowa and Colorado. After completing her graduate studies at the University of Denver, she studied flute in France with Jean-Pierre Rampal, Maxence Larrieu, Alain Marion and Andras Adjoran. She has toured across the country and performed for colleges, concert series and for Community Concerts. Susanella has taught at Metropolitan State College and the University of Denver and given master classes in colleges and universities.
Susanella came to the Big Island to play concerts in 1983 and never dreamed she'd move here some day and become principal flute of the Kona Symphony, the Kamuela Philharmonic and the Hawaii County Band. She performs with the Hilo Chamber Music Festival, the Volcano Chamber Players and the Magic Strings. In October '05 she performed the Pergolesi Concerto in G Major with the Kamuela Phil, astounding the audience with her brilliant interpretation. West Hawaii Today wrote, "The audience clapped endlessly at every pause in the music"
She has her teaching studio at Harmony Farm in Glenwood on the Big Island of Hawaii where students come to her from around the world for intensive flute studies. She also teaches piano and coaches ensembles.
Hear her compositions with the improvisatory ensemble, Cordillera
Her arrangements are available from Southern Music and Shawnee Press
Susanella plays a solid gold, custom-made flute by Jonathan Landell, a Prima Sankyo alto flute, a Yamaha wooden piccolo and Sweetheart Irish flutes.

Susanella is an advocate for animals and teaches pet owners how to homefeed their dogs and cats at Pet Chef Hawaii
In March 2008 Susanella became the first certified Natural Balance farrier in Hawaii - Farrier Godmother
Visit Susanella's Flute Studio

O20311